The Illusion of Free Will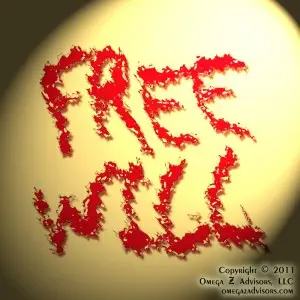 The notion of free will is a byproduct of our conscious, more specifically our ego. It treats emotions as a nuisance which it should control and the unconscious a fantasy which it should  ignore. Yet, these two are fundamental determinants of our personalities which make our choices quite predictable.
In the January 17, 2011 issue of The New Yorker, David Brooks writes in "Social Animal" that "A core finding of this work [cited in the article] is that we are not primarily the products of our conscious thinking." In other words, we just think we are making choices.
Some people use choice as proof of free will; if we have a choice, we have free will. However, we program computers to make choices all the time. Under one set of criteria, they choose "A," while under another it's "B." They can even make random choices: choosing "A" 65% of the time and "B" 35%. But, do they have free will?
Yes, they are just following coded programs, but we could be following our own program. It's called personality and is heavily influenced by genetic code. When we understand a computer's code, we can predict its choices. If it's too complex, we won't. The same is true for personality. If we understand it, we can make predictions about a person's choices. If we don't, we can't.
David Brooks describes everyday events that appear choice-filled but are quite predictable. The key is to remember that we are observing a people who 1) believe they have free will and 2) don't believe they've been programmed with a personality.
Related link: Illusion of Free Will Revisited