Problem-solving Technique: Integrated Assumption
Even though writing down the problem can help us solve it, it's also a form of defining the problem. Thus, we will tend to define problems according to a nomenclature that we typically use. Since problems don't care how we define them, our problem-solving approach problem will tend to be clunky and segregated rather than smooth and integrated.
For example, below is a schematic. On the left is a typical functional perspective of business. On the right how a problem has no regard for those functional boundaries.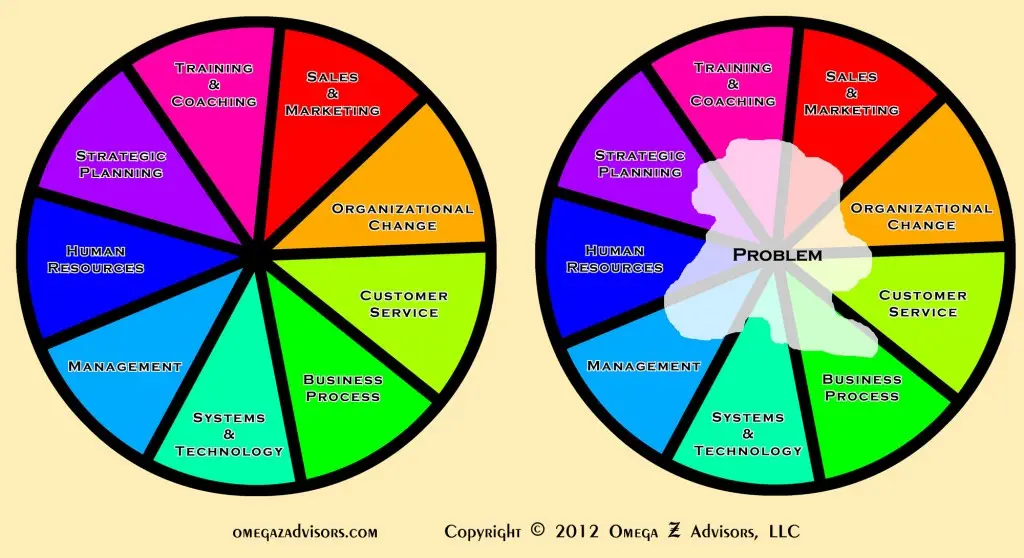 While obvious, we easily forget. For instance, if we define a problem as, "We need to generate more sales," we will automatically tend to view it initially as a Sales & Marketing problem. In actuality though, many aspects such as pricing, delivery, servicing, management and technology could exist.
Therefore, in solving problems, it's best that we assume the solution is an integrated rather than a segregated one. In other words, rather than ask something such as:
Is this part of the problem?
Does the problem affect this?
We should ask whether we can prove without a doubt that:
This isn't a part of the problem?
The problem doesn't affect this?
Thus, returning to the above example, rather than start from the premise that it's a sales and marketing problem and then see if any other area is affected, start from the assumption it's a business-wide, integrated problem and eliminate areas as we conclusively prove that they aren't involved.
By assuming the problem is bigger and more integrated than we initially perceive it, we expand our field of potential solutions and success. Moreover, since we aren't omniscient, it's often better to assume the problem is more involved than it initially seems.