Confidence as a Psychological Weapon of Leadership
/
/
/
Tags
certainty
,
confidence
,
facts
,
honesty
,
Influence
,
interpretation
,
leadership
,
logic
,
message
,
power
,
psychology
,
subconscious
,
trust
,
uncertainty
,
martyrs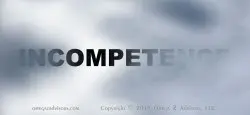 Confidence frequently indicates incompetence. However, leadership often requires confidence. Since people often fear uncertainty, they naturally gravitate to people who provide certainty, and confidence is a form of certainty. We can partially resolve this paradox by asking, "Is the person confident or merely being confident?" This question allows us to see confidence as a psychological weapon of leadership.
In school, we learn debate is rooted in arguments supported by evidence, an objective battle won by stronger facts and arguments. In real-life, we learn it's more of an emotional contest. Political debates are excellent examples, but even our daily work environments contain examples.
Again, it's more than good emotions battling bad emotions because people frequently don't behave the way they claim they do. For instance, people say they value trust and honesty, but in reality, eloquence trumps both. In the end, conviction is often more potent than logic.
Confidence is a form of conviction about outcomes. Martyrs are examples of the power behind convictions. Someone willing to die for what something influences us immensely. Therefore, in many business debates, conviction around weak arguments and facts can easily overrun strong but hesitant, hedging ones. Moreover, since how we feel about the messenger influences how we interpret the message (more), people, especially leaders, can easily influence us if they have conviction and a good relationship with us . . . even when the facts contradict what they say. We sometimes experience this at work when we say someone has great will or will power.
We protect ourselves by being aware of the power confidence holds over us. Raising this to a conscious level is the key. This is true for many subliminal influences. So, next time you run into confidence, ask yourself "Are they using confidence as a smoke screen for incompetence?"
Related Posts
About Post Author