Vanilla Words, Vanilla People, Succumbing CEO's
/
/
/
Tags
CEO
,
character
,
miscommunication
,
original
,
Personality
,
power
,
relationships
,
vanilla words
,
Bloomberg Businessweek
,
Spice-Originality Analogy
,
clichés
,
anonymous
,
Forbes
,
Wealth Management Marketing Blog
,
Megan Elliott
,
Noah Buhayar
,
Victor Lipman
,
Vanilla Words-Thinking Series
,
analogy collection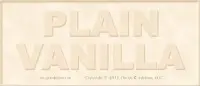 Just as our selection of cars, décor and clothing say something about our personalities so do our selection of words. Vanilla people tend to select vanilla words. Noah Buhayar article "CEO's Give Investors the 'Laser' Treatment" (Bloomberg Businessweek, August 26, 2013 edition) caught some CEOs succumbing to "vanillaism" by copying and overusing "laser."
Megan Elliott in "Avoid Clichés in Your Writing" (Wealth Management Marketing Blog, October 9th, 2013 post) comments on Buhayar's article and identifies two problems with clichés as powerlessness and miscommunication. I would go further and add masochism, self-inflicting damage on one's own personality by sentencing it to anonymity, oblivion and uncreativeness.
I would also go beyond clichés. These are words, phrases and whole thoughts that are essentially regurgitated but do serve to persuade and communicate effectively. Many are inherent to specific processes or business cultures. While they might not represent our originality, they might serve a very valid relational purpose.
I'm not suggesting vanillaism is bad. In fact, too much originality might confuse. Therefore, it's best that we consider originality a spice. Just as we don't need much to alter food's taste, we don't need much to establish our originality, uniqueness and humanity and to avoid coming across as nothing more than an automaton. Thus, a mainstay of vanilla words with a dash of our own originality will prevent us from assassinating our own character.
What do your words say about you?
Related Articles