Change Management Strategy #5: Two Pictures of Change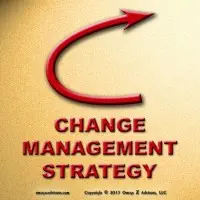 For any change management strategy, it's important to identify how we and the culture we're impacting conceptually picture change. This helps us manage expectations. While perhaps initially puzzling, the article "When in Chinatown, You Really Do Think More Chinese" (Harvard Business Review, March 2013 edition) helps by exploring the ways Westerners and Easterners picture change differently. I describe them as linear and cyclical change.
Linear change:
Moves in a particular direction
Has varying speeds, even halting at times
Is a temporary phase between two states
Has set principles, rules, guidelines making it work
Appears unpredictable
Cyclical change:
Has repeating patterns such as birth-life-death or as "history repeating itself"
Is in constant motion
Occurs even when we can't perceive it
Has principles, rules and guidelines that vary with circumstances
Appears predictable if we understand the cycle
Analogously, we can combine the two as the lives of a man and a woman producing a child. That child lives on as a version (a change) of the parents. The child then goes through his own birth-life-death cycle. In this sense, we combine the progressive, forward feel of the linear change model with the circular feel of the cyclical one.
This combinative approach corresponds to the idea of creative destruction. For companies, this means reinventing itself by holding onto the good from the past (parents' genes) and by incorporating the new (mutated genes) to thrive in the new world (which is also changing). This gives birth to a related – but different – version of the company.
These two pictures of change help us set realistic expectations, make change more predictable and reduce the uncertain anxiety workforces feel with change. In short, our change management strategy becomes more effective.