Untold View of Fearing Change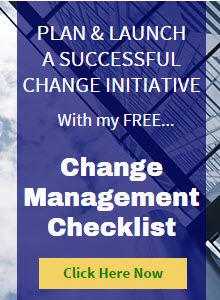 There is much on why we fear change. There is an untold view of fearing change though. It exists even if change does not. It makes change management even harder.
When we search "fear of change," we find the usual:
Fear of uncertainty is strong.
People like to cling to habits.
Preference for believing things will not change.
There are many others. We overlook a key one though.
Fear of Making Decisions
The untold view of fearing change is that it has us make decisions. People fear decisions. They fear making bad decisions. They fear the responsibility that comes with making decisions.
This fear exists with or without change. When it combines with change, change becomes even more fearful. Decisions take longer. They drive people to seek consensus to reduce personal risk.
Process of Making Decisions Changes
Fearing change often changes how people make decisions. This further slows the change management process. This happens for two main reasons.
First, change brings new things. We need creative approaches. Altering our decision-making process helps us do that.
Second, some personalities are better at making decisions. Some personalities are better at dealing with change. The stress of change will alter the internal politics in favor of those who live at the crossroads of these two personalities.
Overcoming This Untold View of Fearing Change
To overcome this untold view of fearing change, we need to find the:
Decision-making processes to use
Decision makers
Types of decisions that will apply to both
Ways to surface decisions
A common mistake in change management is overreliance on existing:
Decision-making processes
Decision makers
Protocols for identifying and surfacing decisions
This does not mean we throw out the old. It means using other ways to get through the change until the new habits take hold. Frequent and thorough follow up is key. This will uncover stalled decisions and questions.
It is not helpful to just say, "Change is constant." People need periods of stability in between periods of change. We can climb steeper changes in height much better with stairs than with ramps. The key is having people who can overcome this untold view of fearing change and help others do the same.