The Small Importance of Big Data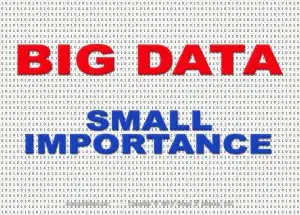 Many small things are critical to big data. Yet, as history shows, revolutionary uses will surprise us. Our imagination lags far behind technology's possibilities. We often see technology as replacers for existing tools and methods. Cells phones would replace landlines and payphones. They are but have also become mobile accessories of the internet and our electronic partners.
Continuing the theme, big data will replace traditional research and problem-solving by providing better and quicker ways to do the same thing in the same way. This won't tap though much of its potential. We will force big data to work within two of our problem-solving biases rather than cure them:
These biases exist because they're simpler, not necessarily better, for human problem solving. Combining them, our bias is for one big solution versus many small ones, meaning that we focus so much on locating the 20% increase or savings, that we'll miss the twenty each producing 1%. "Little Things that Mean a Lot" (The Economist, July 19, 2014 edition) offers many examples of many small solutions adding up big.
Yet, even this oversimplifies because the many small solutions are integrated, either complementing or offsetting one another. "Which?" and "How?" will require us to avoid locking big data into another problem-solving bias, compartmentalizing, defining problems within our understanding rather than within the integrated reality they exist. This means learning to live with unknowns in solutions, another bias.
If big data must work within our problem-solving biases rather than around them, our expectations of it will likely go unfulfilled. This means of course damaged careers and enlightened competitors taking us by surprise. History already knows that's in some of our futures.