My 100th Post: Thank You for Your Inspiration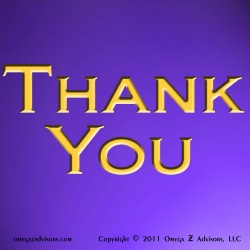 You are reading my 100th post. In the beginning, I just wanted to see if I could stay committed to publishing twice a week for a year despite other commitments. I did that, but I had help. I felt this post was a symbolically opportune time to give thanks for that help.
First, I want to thank my wife, Kathy. She was extremely tolerant in my self-imposed urgency to meet my publishing goals while I was also trying to run several businesses.
Second, I want to single out four people, Craig Palenshus, Bill Forsyth, III, Jeannette Marshall (Blog: optioneerJM) and Mary Duckworth-Demis Mimouna.
Craig quickly got me set up and running. He intuitively knew a design and color scheme that suited my preferences and purposes. Bill was instrumental in giving me a publishing strategy for my content goals and initial SEO advice. Jeannette encouraged me throughout and was an early commenter while trying to keep me abreast of the latest blog functionality. Mary encouraged me by frequently commenting and giving advice on the more technical aspects of writing for a blog.
Finally, I want to thank you. While anything can inspire me, interactions with others are my main sources. In that regard, the internet and social media have enlightened me. I now have access to people all over the world and their works. I am no longer solely dependent upon traditional media.
True, many of these "virtual" people don't have the viewers, listeners and readers of that media or even the visitors of older websites, but they certainly don't lack the talent to write, discuss and inspire. In fact, I'm now convinced that there is only one difference between them and the old order . . . opportunity.
Again, thank you. I look forward to your continued inspiration. Cheers!
Other posts in series:
Thank You
My 100th Post: Thank You for Your Inspiration