My 200th Post: Thank You All – Again – For Your Inspiration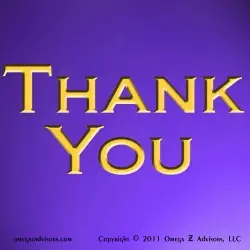 Wow! I'm excited about my 200th post. More and more people have entered my life – real and virtual – for whom I am thankful. This post is longer than my norm, need to tap into the power of thank you's.
I continue to be thankful for those I mentioned in my 100th post, including my wife, Kathy, who even as I write this is adjusting her schedule so I can keep my deadlines.
The second hundred had a more public feel for me than the first hundred did. Yes, some is due to substantially more visitors, but that is the smallest part of this story.
I'm thankful to the #usguys (Twitter) and 12Most families. Jeannette Marshall (Blog: optioneerJM) introduced me to the first and Daniel Newman the latter. Daniel "discovered" me on Twitter and Skyped me. Consequently, I ended up with three posts on 12Most, one drawing fairly heavy traffic (and controversy on Goggle+ 🙂 ).
I've thoroughly enjoyed the international aspect of the second hundred. I'm extremely thankful for Sandra Semjonova from Latvia. Anybody who follows me on Twitter knows she is a huge supporter. This world would be better by a factor of ten if it had just a few more Sandra's. There's also Vanina Santana-Sweeney from Australia who tracks me on several social media sites. Finally, there are cities like Marrakech, Belgrade, Pelotas, Melbourne, Manila, Bangalore containing regular readers. It's reassuring to know we have commonalities; maybe those world problems aren't so daunting after all!
Still, my biggest surprise has been locally. I'm thankful to those who meet me like Eric Mann and Tammy Wilson who then follow up by visiting here and wanting to know more. Or those, like Tom Wyatt who want to just meet to see if I'm for real. Then there are some high school classmates who wonder if I'm the same person they knew.
Moreover, locally, I'm extremely thankful for ProSource Solutions, LLC. A great client who requests much of my time but encourages the flexibility I need to grow this effort. Its Managing Directors, Lowell Messner and Jeff Welch, are extremely supportive of my ideas and work.  Additionally, their many employees make it all very enjoyable and rewarding. If you have IT-related skills, you should definitely look into them.
Finally, there are many unknown and unmentionable readers for whom I am thankful. I might only know some from their obscure towns. Others, for various reasons, including censorship in their communities, need to remain unmentioned. However, even if unknown and unmentionable, they certainly aren't unappreciated.
With that, thank you – again – and I look forward to your continued inspiration. Now, I must close the door on the second hundred and open the one in front of me for the third hundred. Fortunately, you have given me the key. I promise to use it wisely . . . and, of course, intuitively.
Have a good one!
Referenced posts from 12Most.com:
Other posts in series:
Thank You
My 200th Post: Thank You All – Again – For Your Inspiration