My 400th Post: Thank You for Your Growth and Endorsements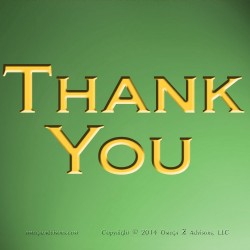 My 400th post arrives with much amazement, awe and appreciation for those who visit my blog, encourage me and publicly endorse both. As many of you have noted, there is much rich content here. I invest time in writing it, but increasingly the marketing and organization of that content is expanding. I appreciate your suggestions because they give me direction. I was not expecting to be at this point for another two or three years, if ever. Your support has really forced me to rethink my plans for this blog and for my business activities. For that, I gratefully thank you.
My first hundred posts were experimental, seeing if I could maintain the rigorous schedule of publishing twice a week while continue to run a business. My second hundred caused me to realize that my blog had a "public." By my third hundred, you convinced me that this blog was here to stay. My interactions with you increased dramatically. In my fourth hundred, your explosion of support has forced me to rethink the role my blog plays in my business and my life.
Naturally, the growth you gave me made researching and organizing this celebratory, thankful post vastly more involved and difficult. Please review those I mentioned in my 100th, 200th  and 300th posts. In the meantime, here are those whom I wish to acknowledge publicly this year for making my life better. Adding them to yours might do the same:
Again, my wife Kathy who continues to support my work and still doesn't appear on any social media!
Linda Trevorrow, a local accountant, operates well beneath the virtual world, but her addition to my life has been a plus.
Jeannette Marshall @Optioneer JM was my first follower on Twitter and told me I had to get on it.
Sandra Semjonova @SanHarmony was one of my first hundred followers on Twitter now we communicate more on Facebook.
Nina Santana-Sweeney @Nina_S_S is one of the first 200 people with whom I exchanged follows, long-term supporter. Nina's extremely well connected on LinkedIn.
Vanessa Peterson @vanesadawn finally got me to post some creative works of mine.
Bettina Ascaino @Bettab10G is very passionate about what she does including trying to get me to spend more time on G+ where she is the Diva of Divas.
MathewTyler @DrMathewTyler is one of the most interesting and unique people you can meet. He would be disappointed if I didn't mention that he's a Scorpio.
Jonathan A. Segal @Jonathan_HR_Law knows HR and can present it in a friendly and interesting way, and we've actually spoken on the phone.
Samantha Hall @Samantha_S_Hall is still persistent with her questions and whose inquisitiveness will never die.
Scott Mabry @scott_elumn8 had me back guest writing for his blog and is always around for you.
Scott Boulton @HR_ScottBoulton has been blogging for over a year now and continues to provide reality-based HR advice.
Francesca Romana @chiccafabris whose CD, Travelling, I bought and is providing me great inspiration and who is raising money for a new album.
Wayne Hines @WayneHines and I connected when I asked me to write a guest post for which I am very grateful that he felt I had something that related to what he did.
Eric Thomas @seams16 supports writers and any writer should follow him.
Sheryl Andrews @howtoleadateam visits periodically and always causes me to stop and ponder.
Mehul Pithadia @Deumintra has a mystical, energetic and creative quality that everyone should experience.
Bill Gaul @GaulBill is a fellow baseball fanatic and someone I know from a previous real life; you'll enjoy his connection.
Gary Archibald @Gary_Archibald supports my work no matter what the weather is outside.
Hiran @hiran_das is passionate about cooking and introduced himself over a tweet about vanilla ice cream.
José Armando Mistage Ochoa @calabozo43 is energetically pursuing life, definitely energetically.
Taranjit Kaur  @Taranjitk is undefinable and a super writer who should write more (Oops, I just defined her but it's not a complete definition)!
Chuck Mackey @FierceStrategy is only one of a couple on this list that I have met in person but met on Twitter first; he likes my work and actively promotes it locally.
Rick Smith @RickRofdallas is literally the master of dogs and ensures my outdoor tasks get done.
Bruce Goeway  @BruceGoeway, provided engagement, thought and fun.
Chuck Mache @ChuckMacheComm has been very supportive of my work and enlightening.
Jonathan Binns @BinnsJb is one of the best souls anyone could run into on the internet . . . or anywhere for that matter.
Beth Honshell @Beth_Honshell not only supports my work but also gives some very good advice on how to make the blog better.
Joe Leslie @joeleslieauthor is one of those people who make the internet a very pleasant place to be.
Uday Menon @Uday47 is very engaging and thoughtful; his responses cause me to stop and ponder.
Dr. Mitchell Friedman @mitchellfriedmn is a reconnect from a past, real life; supportive, intellectually engaging and fun.
Murphy Daley @WrittenByMurphy writes much and encourages others, definitely one of the kind souls on the net.
Stephen Lahey @stephenlahey become intrigued with my blog, its organization and our phone discussion of it so he decided to interview me for his podcast.
Jasumati @JasumatiPatel is one of those kindred spirits from across the globe that reminds us that the only difference is distance.
Joann Corley @joanncorley interviewed me for her PodChat which was a very enjoyable time.
Kimmy Johnson @trekkie329 , a regular supporter, is another kind soul you can find trekking on the net.
Dr. Julie Rasmussen @JulzRasmussen does not have "run of the mill" insights, and I find her contrarian nature refreshing.
Marion O'Connell @marionphoto is an early follower who shows up to say hello periodically when she's not photographing or traveling.
Joseph Jones @FrugalFirbolg suggested a post to me that turned out to have the best introduction yet of any post I wrote.
Terry McCracken @TerryMcCraken is another long-time follower who revisits periodically as a reminder that I do now have a history on Twitter.
Lee Hunt @DupeOfURL is a fellow military history buff who has a military gamming background.
Adrienne Warren @adriennewarren5 has followed me for a while and always shows up unexpectedly to remind me that she likes what I tweet.
Michael Hueser @MichaelHueser doesn't respond frequently, but when he does, it's striking and worthy of pondering, plus you can't beat a tiger as an icon.
Jandis Price @jandis_price is in health care consulting, and it's good that she is because she has a great spirit about her.
Aniekan Joseph @kannyjoe has one word on his profile, Ponderer, so I'm honored that he pays as much attention to my material as he does.
Sheila Greenfield @SheilaGreenfiel and I communicate more on Facebook so look for her there or in the dictionary under the word "Energy."
David Waltz @davidwaltz is the guy to see to understand strategy in finance, especially its statistical aspects. Not only does he have a great perspective on it but he can explain it really well!
RhodaStyles @RhodaStyles is a very enthusiastic, positive and supportive person.
George Colombo @georgecolombo is not only an excellent process management resource but also a good soul.
Billy Dees @BillyDees and I have similar historical stomping grounds; he has been encouraging and supportive.
Rich Duszak, MD @RichDuszak periodically engages with me, but his insight on topics is salient in my mind.
Diana Johnson @dsjinspring likes old warbirds as do I so that was the connection.
Harold Stiver @HaroldStiver routinely retweets my new posts and has beautiful nature photographs on his site.
Craig Carter-Edwards @_CCE is supportive, provides great commentary on my tweets and has a very extensive blog that is worthy of exploring.
Jack Prince @Vlad909 is always very encouraging, even the cloudy days are bright in his world.
Bernadette Keefe @nxtstop1, active in medical field, engages and supports people on many different levels.
Katrina Murphy @katrinamurphyir has great insights and an enjoyable, covert humor.
Sally Lewis @RslewisSally is humorous as advertise, very engaging and wonderful to know.
Achim Novak @AchimNowak has passion for leadership and great background music for his site.
Lynn Soss @lynnsoss, a newer connection, has one of the prettiest Twitter banners I've run across and works hard to build healthy families and communities.
David Spellman @David_Spellman has great insight into people and knows the workplace as it really is.
Jan (McMorris) Manimoi @PoetJanManimoi has great enthusiasm for my work and a very educating creative aspect.
Here are my stealth connections. We've not had many interactions, if at all, but they've been supporting me for a while. They're like mountains, quiet but omnipresent.
As a rule, I don't pay much attention to companies and groups, preferring individuals; however, these entities are my rule breakers! They've been very supportive of my work and from what I can tell have good individuals backing them.
Other posts in series:
Thank You
My 400th Post: Thank You for Your Growth and Endorsements